Happy Easter!
Phil & I had a couple of friends over for Easter, Sven and Lorcan. It was wonderful being able to celebrate Easter Sunday with others. It also gave me an excuse to cook and bake. For the first time, I baked with yeast. I made homemade hot crossed buns with raisins and dried cranberries. And they turned out!
I also got to do some arts and crafts and made Easter baskets for everyone. They also worked as place cards for the table setting (see photo above). We used the good silverware and chargers and cloth napkins and tablecloth, too. (Fancy, fancy!)
For the first time in years (ever in Germany), I colored Easter eggs. They do it differently here than in the USA. Here, they have tubes of colors that you put in your plastic-gloved hand. Then you roll the egg around in your hand, adding more coloring if need be. Before moving to the next color, you rinse off and dry (with a paper towel) your gloved hands.
Lorcan brought Cadbury eggs, an Easter classic.
Unfortunately, the eggs are just too good…
And disappear rather quickly…
Too quickly…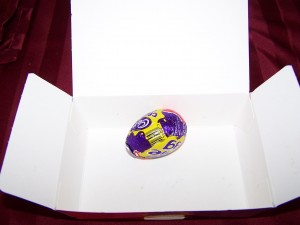 And all you're left with…
is waiting for Easter next year…
And more Cadbury Creme Eggs…
(FYI Easter Sunday April 24, 2011)
(Un)Interesting side note: When I was a little kid, I wondered how a company could survive only making creme eggs one season each year. I even started looking for other Cadbury products during the rest of the year, but only ever found the Cadbury Creme Eggs each Easter. Now, of course, I know better, but at that time, that was the only Cadbury product I could find on the USA market. (Now, there are plenty of other Cadbury products.) And to this day, the creme eggs are the only Cadbury product I like. I'm a Hershey's girl.