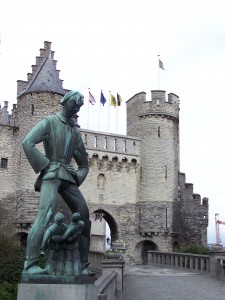 For almost two months now, Phil's been working in Antwerp. This weekend (the last weekend in March), I got my first glimpse into his life in Antwerp.
Thus far, Phil's been rather negative about Antwerp, its life and its culture. This is understandable. He's working there (far) away from home and knows it's not permanent. Therefore, he doesn't want to get too happy, too settled there.
So, this weekend, he looked at Antwerp anew, through the eyes of someone who'd never been there before, through my eyes.
What my eyes saw was a city of great contrast: beautiful buildings hundreds of years old next to modern concrete monsters, French mixed with Flemish (Dutch), an industrial port city with history and culture and art. We wandered around the town, admiring the mix of cultures and architecture. I enjoyed trying to decipher the Dutch I came across. I was proud of any bit I could figure out since it's a strange mix of German and English.
We both enjoyed sampling the (high percentage) Belgium beer. This time, I stuck mainly to blonds (because they have more fun). With a blond, I knew it wasn't going to be too sweet (I'll let you insert your own sweet-blond joke here) like some I'd tried, and sad to say, I just couldn't force myself to finish.
It was also interesting for me to see how it feels for Phil to travel, but in reverse. Despite how arduous it may seem at first, there was one fact that made the journey seem so simple, so insignificant: Phil. He met me at the bus (from Brussels airport) with a kiss and all of the hassles along the way just disappeared. Even though it wasn't "our apartment," it was still nice to hang out in an apartment with Phil (with beer in the fridge). Phil's presence made the little apartment in Antwerp feel more like home than our apartment in Munich has felt in weeks.
In (a not so) interesting aside, just because I'm proud of me, this trip was the first time I flew without checking in any luggage. It was such a nice feeling checking in online and going directly to the gate (via the security check) without stopping at a counter. More impressively, my little duffle bag even fit in the overhead compartment in the little puddle-hopper that was my plane for the way back. I'm just so proud of me.
I have also updated the pictures from Cologne.
-Peggy